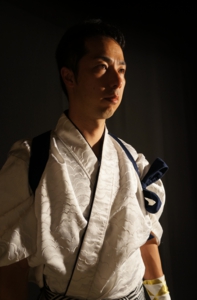 IKKI HINO(1977.6.28)
Musician/Artist
Samurai Drum IKKI Leader
IKKI Taiko-do Representative
Wataiko Instructor
Facebook
Twitter
IKKI HINO was born in Osaka, 1977.
After graduating from high school, Ikki joined the Japan Ground Self-Defense Forces where he was first introduced to wataiko, Japanese drums. Before long the world of wataiko enthralled Ikki. After leaving the Self-Defense Forces, he founded "Samurai Drum

IKKI" to pursue the original sound of wataiko and its music on his own.
He has performed and given workshops in more than 60 cities around the globe to date. The universality of his playing skill and style has captivated many people's hearts. One critic says, "He has encompassed all of the traditional art form with techniques and rhythms worthy of very accomplished modern percussionist. "
His flexible musical style has attracted many offers from various genres of arts; he has collaborated with renowned Japanese artists and dance companies and featured in theatre plays and musicals. In addition to performing, Ikki is also committed to teaching others the charms and technique of wataiko; he composes for other music groups; he holds workshops for exchange students at a prestigious university as part of its Japanese cultural curriculum.
In 2009, he started giving courses named "IKKI TAIKO-DO" in order to make wataiko accessible and enjoyable to more people. Currently his courses run in Saitama, Kobe, Osaka, and Tokyo.
Argentine, Austria, Czech, Germany, Hungary, Korea, Philippines, Romania, Slovakia, Taiwan, U.K., Ukraine, U.S.A
・The Forsythe Company(Contemporary Dance Company)
・Valentin Bartes(Ballet)
・Shiro Amamiya(DJ)
・Masakuni Tachi(Spinning Bike)
・Naoki Ishikawa(Rudy mental snare drummer)
・TOMZUIN H (Syn)
・Hitomi Nakamura (Flageolet)
・Kou Ishikawa (sho)


,http://gdata.youtube.com/feeds/api/videos/LoAaB9wlPRM,standard,{"playerWidth":"425","useCustom":false,"autoPlay":false,"autoLoop":false,"autoNext":false,"quality":"medium","qualityName":"中"}